AME BC Roundup 2016
 
@ROUNDUP 2016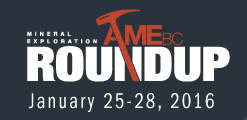 AME BC's Roundup 2016 is January 25 to 28 this year. Be sure to stop by our booth #1120 and say Hi to our Sales Manager Steve and Store Manager Andrew. As always we will be talking about the latest and greatest items introduced to our product lineup.
"This year's conference will bring together geoscientists, prospectors, investors, suppliers and First Nation partners to share ideas that will help shape the future of mineral exploration and development. As the mineral exploration and development industry continues to work through the current downturn, we reflect on the importance of networking, professional development and relationship building with our partners, stakeholders and competitors. Mineral deposits are becoming harder to find; we must now travel to more remote locations, search deeper beneath cover, and sometimes settle for lower grades. These aspects, coupled with the challenging market conditions, remind us that we must be more creative and collaborative as we explore to discover and develop new mineral deposits".
Kendra Johnston, Independence Gold Corp.
Roundup 2016 Organizing Committee Chair
---
SHAW BACKPACK CORE DRILL – Come by and check out the Shaw Backpack Core Drill at the booth if you haven't already, we can fill you in on it's capabilities and how it can benefit your exploration program!
---