Vertex Laser Geo/ Rangefinder/Hypsometer/ Bluetooth/Compass/GPS/Usb 2.0/SSD disk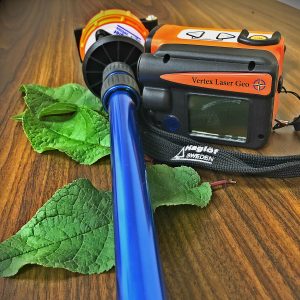 Haglöf Sweden introduces the new Vertex Laser models with outstanding capacities for your most accurate and efficient field measurement operation.
The Vertex Laser Geo is the latest from our friends at Haglof Sweden, and they're pretty excited to share it with the foresters of North America. This compact little machine packs a big punch when it comes to calculating tree heights, measuring distance, crown width, terrain slopes, and even mapping.
"The Vertex Laser Geo 360 packet includes the bright orange Vertex Laser Geo ultrasound and laser measuring instrument, orange transponder T3, adapter and monopod staff. Use the Vertex Laser Geo to measure tree heights in thick forests and in sample plots, to measure in open terrain and for distance measuring from 46cm up to 700 m. Use it to measure crown width, to map areas and trails, to measure terrain slopes, to store and process the collected data. The transponder is used as ultrasound receiver to measure tree heights with ultrasound and on the monopod staff in plot sampling. The Vertex Laser Geo instrument includes built-in GPS and compass, and can be custom programmed, updated, and upgraded. "

Features
Long range measurement with high precision laser and integrated tilt and compass sensors for accurate 3D measurements. Results are presented in an integrated heads-up display and external, graphic display.
GPS and Mapping
The built in GPS-receiver and a 5-position numeric ID-attribute al-low you to tag important data with coordinates with a simple key press. Your data is stored on a built in SSD drive and immediately available for further processing when connecting a standard USB 2.0 interface to any PC or Apple computer. No installation routines, converting software or special drivers are needed. Your field data can be opened straight in your favorite GIS or spreadsheet application. Complex operations such as area measurement, 3D mapping of targets and Trail mapping have integrated functions that also are available to you without any external tools. The 3D Vector function allows you to measure horizontal targets such as canopy width.
Forestry
Choose the Vertex Laser Geo instrument system with incorporated ultrasound technology if your work mainly takes place in the forest. Ultrasound is superior compared to alternative methods, as it can be used in dense forests and where underbrush is thick. The Vertex Laser system works with an ultrasonic transponder. Use in circular sample plots to quickly and accurately determine if a tree is in or out!
Heights
3-point, 2-point or 1-point or direct measuring – choose preferred method to work with in the easy-to-follow menu system. A non-magnification dot sight helps you to identify individual targets such as tree tops and power lines.
Upgrades and Customizations
New functions can be implemented and alternative firmware's for user specified utilization standard applications can be offered to you. Contact us for details and offer!
Communication and energy
The built-in Bluetooth V4 Low Energy transceiver enables long range wireless data transfer to your favorite handheld device. The instruments have built-in, long-lasting Li-Ion battery and charging is made with mini USB interface.