Operations during COVID-19
Tree planters please click here for more info
Tree planting companies please click here for more info
As staff and management of IRL Supplies we are working to do our part to contain the spread of COVID-19. Internally we have adopted new internal policies to keep the risk to our staff, and therefore our customers, to a minimum. We have done this through creating and reiterating healthy work place habits and strict adherence to social distancing. We have also cancelled all un-necessary work travel for as long as is needed. These new policies are in conjunction with any regulations and suggestions provided by municipal, provincial and federal regulators. As the situation changes frequently, so do our policies, please check back often for more details. 
Web Orders
We would like to encourage all of our customers to place orders through our website. This is the safest way for our staff to receive and process your order. www.irlsupplies.com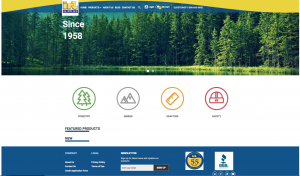 If you have an account with us and have not yet ordered online, with one phone call we can get you set up and link your web account to your charge account. Please call us to be set up now or return the attached form by email. You may also pay by credit card online at time of purchase even if you have an account
Orders can also be emailed to us at orders@irlsupplies.com
Curbside Pick Up
Place your order online (recommended), by email or by phone and we will pack and box up your order with gloved care and bring it to your vehicle on your arrival. Just call our local numbers when in the parking lot and we will bring your order out
Prince George: (250) 562-2185 ext 1
Saskatoon: (306) 934-1666
Local Delivery (Prince George only)
We have a nominal charge of $5.00 for deliveries in the bowl area regardless of order size.
Store Hours
For now both stores are operating under normal store hours, on Monday to Friday, 8am to 5pm. This may change in the future as the situation in Canada changes daily, if not hourly at times.
IMPORTANT NOTE: We are suspending our Saturday opening for spring and summer until further notice. Please contact us during regular hours if you need an order that has to be picked up on Saturday
Shipping for Out of Town Customers
We are temporarily suspending our same day shipping policy for out of town orders. This will allow us to be able to work through orders in a safer manner and limit our contact with shipping companies so that they also may look after the more serious needs of the nation. We will only be shipping orders out on Monday, Wednesday and Friday.
Keeping space in the store
We have marked off spacing on the floor at our front counters to give the needed 2m spacing between our staff and customers. We respectfully ask that customers stay behind the makings while in the store. We have also provided markings through out the store to help people manage the distance between themselves and others more easily.