Gear Up For Fall
OUR FAVORITE GEAR & TIME OF YEAR
The leaves are changing color and the days are getting cooler. Whether you're a prospector, hunter, or working in the field, you know this is the best time of year to be in the back country! We have GPS units, satellite messengers, weather meters and good old fashion compasses to help guide you on your adventures. We know you need the most reliable gear because you depend on it, and that is exactly why we only provide the best!
No matter what the season, IRL has all the gear you need to navigate and get you home safe. Here's a quick glimpse of some of our favorite equipment:
---
Measures:
Dew Point Temperature
Heat Stress Index
Relative Humidity
Temperature
Wind Chill
Wind Speed
Features of the Kestrel 3000 Weather Meter
Maximum Wind Gust
Wind Speed 3 Second Running Average
Air, Water, & Snow Temperature
Protective cover with sure-grip over molding
Data hold function
Large easy-to-read display with backlight
Waterproof
User-replaceable impeller
External temperature sensor
Patented Quick-Response RH Sensor
---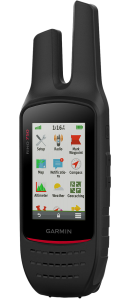 Combining map-guided trail navigation with two-way radio communication
Rugged GPS/GLONASS Handhelds with Two-way Radios
High-sensitivity GPS and GLONASS satellite reception; tracks in more challenging environments than GPS alone
Position reporting feature shows locations of other Rino users on the same channel; lets them know where to find you in an emergency
Dual battery system provides up to 14 hours between charges on lithium-ion pack or up to 18 hours with optional AA batteries (sold separately)
Communicate by Voice or Text
Both Rino 750 feature powerful FRS/GMRS two-way radio that lets you easily stay in touch with your fellow hunters, hikers or explorers in the field. You can also maintain nonverbal contact by exchanging unit-to-unit text messages with other Rino users in your area.
---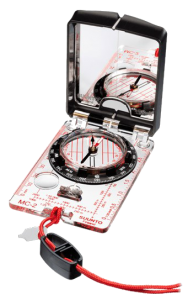 High grade steel needle with jewel bearing
Balanced for northern hemisphere
Adjustable declination correction
Liquid filled capsule for stable operation
Mirror for sighting bearings and signaling
Sighting hole and notch for accurate bearings
Non-luminescent bezel
Clinometer
Luminescent markings for working in low light
Metric scales and inch ruler
Baseplate with magnifying lens
Detachable snap-lock lanyard with wristlock. Easy to detach for working with the map
Suunto limited lifetime warranty
Made in Finland
---
Combining city and backcountry navigation with enhanced outdoor recreation information, this product amalgamates all of BC into one Backroad GPS Map, including our Vancouver Island, Vancouver, Coast and Mountains, Cariboo Chilcotin Coast, Northern BC, Okanagan and Kootenay Rockies Backroad Mapbook titles.
Close to 685,000 km of our backroads network combined into one map, including close to 200,000 km of routable roads, including close to 23,000 km of newly enhanced and named Forest Service Roads in Version 2019.
Lake Bathymetry depth contour for 1,800+ fishing lakes, rivers, and streams in BC
Clearly marked private leased land for anglers and hunters.
Searchable Oil and Gas LSD Grid Locations, Compressor Stations, Gas Plants, Wellsites and other resource facilities.
Marked Wildlife Management Units (WMUs) for hunters.
Tens of thousands of kilometres of multi-use hiking, biking and cross-country skiing trails and paddling routes, with marked trailheads and access points/portages, including 1,500+ km of added multi-use trails and close to 400 km of new paddling routes in Version 2019.
Over 4,400 km of new ATV and snowmobile routes in Version 2019.
Tens of thousands of fishing hotspots, parks and conservation areas, campsites, hunting areas, winter recreation areas and more.
Over 31,000 land and water geographic features.
Thousands of railway corridor mile markers.
Improved First Nations reservation coverage.
Updated snowmobile route line style for easier navigation.
---
SPOT X provides 2-way satellite messaging so you can stay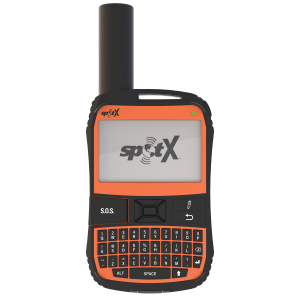 connected to family, friends and co-workers whenever you're outside of cellular range, including direct communication with Search & Rescue services in case of life-threatening emergency. SPOT X even provides you with your own Canadian personal mobile number so others can message you directly from their cell phone or other SMS devices at any time.
FEATURES
MESSAGE
Exchange messages with any cell phone number or email address from beyond cellular coverage. SPOT My Account comes loaded with 14 predefined messages that you have the ability to customize and sync to your SPOT X device.
S.O.S.
Send an S.O.S. to the 24/7 Search & Rescue center, message back and forth about the nature of your emergency, and receive confirmation when help is on the way.
TRACKING
Select from 2½, 5, 10, 30, or 60 minute tracking intervals on your SPOT X, and let family, friends and co-workers follow your progress with SPOT's easy-to-use Google Maps™ interface.
CHECK IN
Quickly and easily let everyone know you're OK.
POST TO SOCIAL
Link your social media accounts to keep your friends and family in the know wherever you go.
COMPASS
Built-in compass and programmable waypoints to help you navigate.